Convenience Centers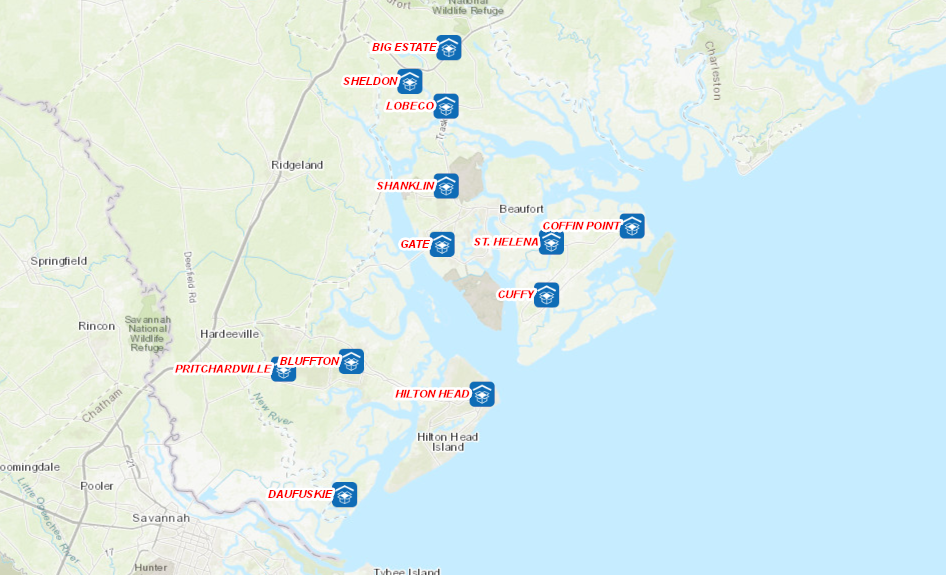 Convenience Centers are trash and recycling drop-off stations open to Beaufort County residents.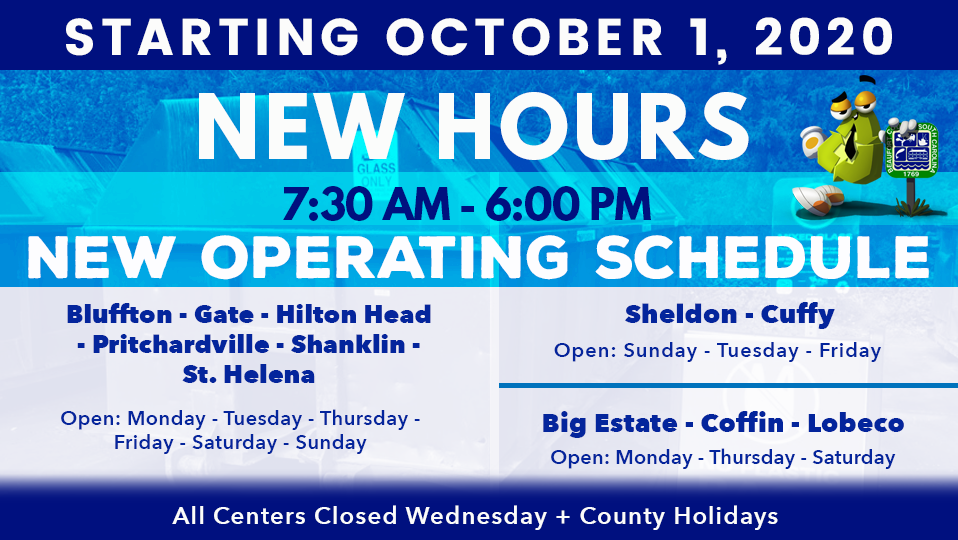 Operation Hours:
  Group A :
7 :30 a.m. – 7:00 p.m.
Open: Tuesday, Thursday, Saturday, Sunday
Closed: Monday, Wednesday, Friday and County Holidays
Big Estate, 63 Big Estate Road
Coffin Point, 10 Cee Cee Road
Cuffy, 152 Cuffy Road
Sheldon, 208 Johnson Road
Group B :
7:30 a.m. – 7:00 p.m.
Open: Monday, Tuesday, Thursday, Friday, Saturday, Sunday
Closed: Wednesday and County Holidays
Bluffton, 104 Simmonsville Road
Gate, 316 Castle Rock Road
Hilton Head, 26 Summit Drive
Lobeco, 6 Keans Neck Road
Pritchardville, 270 Gibbet Road
Shanklin, 80 Shanklin Road
St. Helena, 639 Sea Island Parkway
Holiday Closure
New Year's Day

Martin Luther King Jr. Day

President's Day

Good Friday

Memorial Day

Independence Day

Labor Day

Veteran's Day

Thanksgiving Day

Heritage Day

Christmas Eve

Christmas Day
Trash Disposal & Recycling Guide
For a complete guide of acceptable & unacceptable items, view the guide below. 
Need More Information
Contact:843-255-2736
NOTE: Trailers are only allowed at the following Convenience Centers (per safety): Bluffton, Hilton Head, Shanklin and St. Helena. Trailers cannot be larger than 5 feet by 8 feet at these four centers.  Limit two loads per residential address per day.