Emergency Medical Services Operational Changes Due to Coronavirus (COVID-19)
At this time, only the County Administration Building, 100 Ribaut Road, Beaufort and Myrtle Park Government Center, 4819 Bluffton Parkway, Bluffton are open to the public. Click here for more information.
Currently in effect:
Administrative services are now fully operational.
The level of PPE will be in accordance with current protocol established by EMS Medical Director, SC DHEC, and CDC.
Staff will routinely wipe surfaces with disinfectants after public contact.
All restrictions and protocols will remain in place for staff and public unless stated otherwise by SC DHEC, CDC, and EMS Medical Director guidelines.
For further information on COVID-19:
Click here to visit the SC Department of Health & Environmental Control (DHEC) for COVID-19 Information.  Click here to visit the federal government COVID-19 information website.
Emergency Medical Services
Beaufort County Emergency Medical Services (EMS) provides high-quality, emergent patient care for citizens and visitors of Beaufort County.  Our ambulances provide transport to local hospitals, to include Beaufort Memorial Hospital, Coastal Carolina Hospital, Hilton Head Hospital, and Savannah Memorial Hospital.  
Our employees receive advanced training and maintain certifications with the National Registry Certification as either an Emergency Medical Technician (EMT), Advanced Emergency Medical Technician (AEMT) or Paramedic.  Our EMTs, AEMTs and paramedics provide immediate medical care for conditions including but not limited to physical trauma, cardiac irregularities, respiratory distress, allergy/anaphylaxis reactions, seizure, and drug overdose reversal.  We are equipped and trained to treat pediatric, adult and geriatric patients.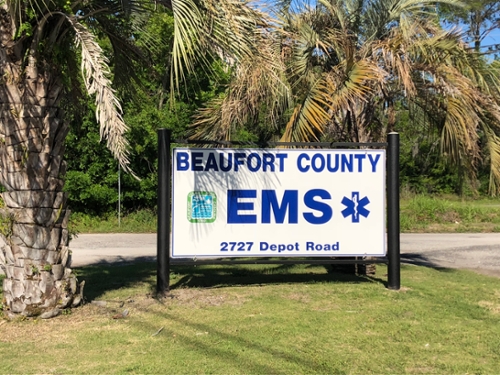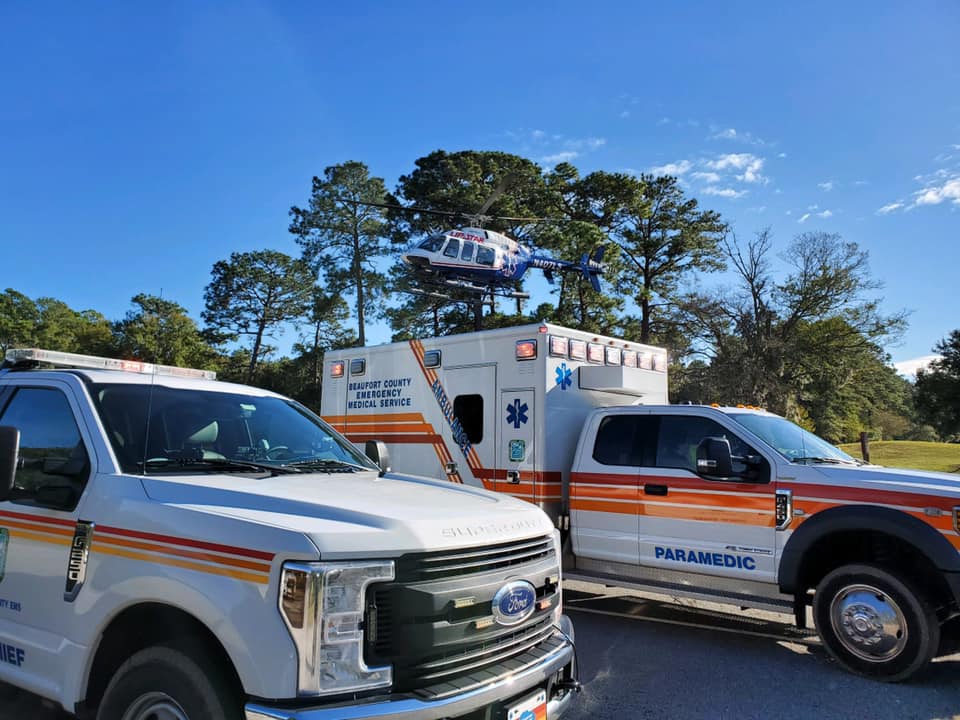 Beaufort County EMS also performs several ancillary missions, which include:
Tactical medical support as imbedded members of the Beaufort County Sheriff's Office Special Weapons and Tactics Team,
Medical support for large events through deployment of specially trained Emergency Bike Teams, and
Direct support to local disaster recovery and catastrophic events as members of the Low Country Regional Medical Assistance Team (RMAT).
Our ambulances also employ state-of-the-art medical equipment on which our staff receives frequent training in our aggressive in-house monthly training sessions which are mandatory. This equipment includes the Physio Control Lifepak 15, Continuous Positive Airway Pressure (CPAP), the LUCAS Chest Compression System, and Handtevy Pediatric Emergency Standards, among others.
Check us out on any of the following social media accounts:
                    Facebook (@beaufortcountyscems)
                    Twitter (@BeaufortSC_EMS)
                    Instagram (beaufortcountysc_ems)
EMS is a Department of Beaufort County Government
Send comments on this website to howelly@bcgov.net 
If you have an event or speaking engagement you would like Beaufort County EMS to be a part of, please contact us at gmarshall@bcgov.net
FOR EMPLOYMENT OPPORTUNITIES PLEASE CLICK ON HUMAN RESOURCES TO BE DIRECTED TO AVAILABLE OPPORTUNITIES WITH BEAUFORT COUNTY.
Last updated December 9, 2021.
Thank you for visiting!
Disclaimer:  The Emergency Medical Service of Beaufort County makes every effort to insure the accuracy of the information found on these web pages.  However, EMS offers no warranty with regard to the information found herein.  Information provided via links from these web pages that were not generated by this department is not warranted to be accurate, authoritative or factual.  The provision of information via these links does not constitute an endorsement of the content of that information or of the provider of that information.  If you feel that information you have obtained via links to these web pages is inaccurate or offensive, please contact the original producer or distributor of that information.  Construction of this web site is ongoing as staff identifies, develops and integrates new resources into this site.