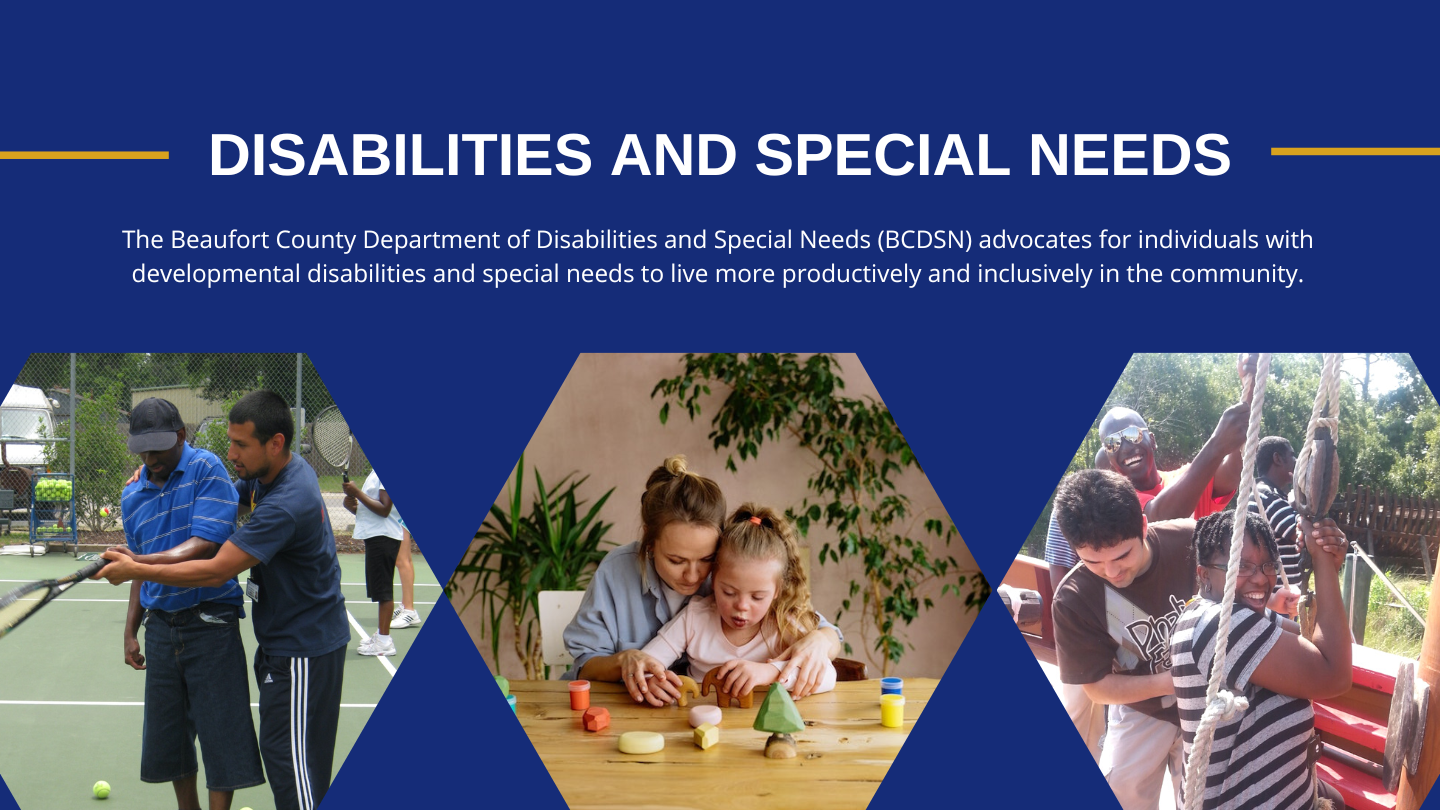 Services include early intervention for young children, case management, a day program and employment opportunities for adults, residential living that accommodates 44 individuals in 11 homes, supervised independent living for five additional individuals, foster home care, and summer camp experiences.
With the main office located at 100 Clear Water Way, Beaufort, S.C., the BCDSN currently serves over 880 individuals and families. Case management is provided to over 770, and early intervention services are provided to over 180.
Case Management
Case management services ensure that eligible individuals have access to a full array of offerings that enable them to live in a community setting, such as their home or a group home, rather than in an institutional setting, such as a nursing facility or an Intermediate Care Facility for Individuals with Intellectual Disabilities (ICF/IID). Case management services are provided by trained professionals with knowledge of the medical, social, and educational services available. Through assessment, case managers learn about an individual's specific needs in order to provide them with effective and appropriate resources.
Camp Treasure Chest
One of the summer camps in Beaufort County for children with severe development and related disabilities is Camp Treasure Chest. It is funded by the ABLE Foundation and serves children and young adults in Beaufort County.
Bright Beginnings Early Intervention
Bright Beginnings is an early intervention program offered within the home or in a day care setting to families with children from birth to five years who are developmentally delayed. This program provides service coordination and family training that address a child's development, including language and communication, cognition, fine and gross motor, social-emotional, and self-help skills.
Great Expectations Day Program
The Great Expectations Day Program helps to train and place individuals with disabilities in jobs created for them according to their abilities and desires. Qualified individuals may spend up to six hours per day in the program, Monday through Friday, where they have the opportunity to further develop and maintain daily living and employment skills. Currently, 64% of the individuals in the program are working in the community, and starting pay is at least minimum wage.
Residential Services
Residential Services provides support to fifty individuals in several different living situations to accommodate their needs. There are currently 11 community training homes (CTHII), and each has four individuals living as a family unit with 24-hour staff support. In these homes, individuals learn everyday skills, such as cooking, cleaning, and independent living. Many have jobs during the day, and community involvement is encouraged. The supervised living program (SLP) allows five additional people to live in their own home with occasional staff support and training. One additional person lives in a foster care type situation (CTHI) in a private home in the community with staff support and training.
BCDSN Advisory Board
The BCDSN Advisory Board advocates for individuals with disabilities and special needs who are served by the Beaufort County Disabilities and Special Needs Department, provides assistance and advice to the Disabilities and Special Needs Department staff concerning matters of policy; and promotes community awareness of Disabilities and Special Needs Department programs and services.
ABLE Foundation
The ABLE Foundation is a strong supporting partner in our service to people with developmental disabilities.
Contact

Beaufort County Disabilities and Special Needs Department