Understanding Mitchelville
In October 1862, Major General Ormsby Mitchel, commander of the Department of the South at Hilton Head Island, ordered the construction of a Freedmen's town to serve as a new home for thousands of former slaves who flocked to the island after it fell to Union forces in November 1861. Mitchelville was more than a refugee camp. The town's new residents built their own homes with materials provided by the Union Army. They were responsible for creating their own government, enforcing town ordinances, establishing schools, and ensuring that every child between the ages of 6 and 15 attended regularly. Mitchelville proved that freed men and women could govern, sustain, and educated themselves.
At its peak in 1865, approximately 3,500 people may have lived in the town. Mitchelville declined after the US Army and the jobs it offered left the island in 1868. By the 1880s, Mitchelville ceased to exist as a formal town. By the 1950s, only the island's oldest residents remembered its important history.
Mitchelville Archaeology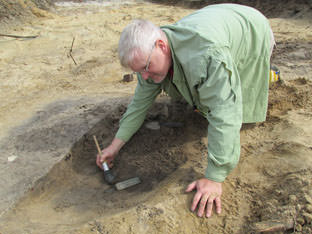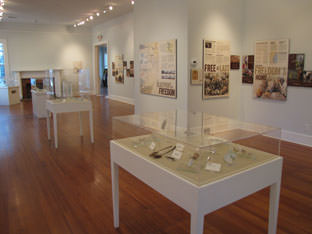 In the 1980s, archaeologists found remnants of Mitchelville and recorded it as an archaeological site. The site was listed on the National Register of Historic Places in 1988.
In 2012, Beaufort County, under the purview of the Federal Aviation Administration (FAA), began work to improve safety at the Hilton Head Island Airport by extending the runway and runway safety zone. Before work began, Beaufort County and the FAA sponsored an archaeological survey of the project area to ensure important sites associated with the history of the county would not be affected by the expansion.
Archaeologists found evidence of another portion of the Freedman's community of Mitchelville. Site 38BU2301 was determined eligible for the National Register of Historic Places. Beaufort County and FAA worked with the South Carolina Department of Archives and History to develop a plan to document and protect this significant historic resource. The following projects, including this website, were undertaken as part of this plan:
Archaeological excavations
Exhibition to present artifacts and information from the excavations
Video documentary — Finding Freedom's Home: Archaeology at Mitchelville
A traveling exhibit available for loan through Beaufort County
Educational lesson plans available through this website
Explore this website to learn about the houses, wells, garbage pits, and artifacts that archaeologists uncovered during the 2013 excavations. See how their work helps shine a light on the efforts of Mitchellville's former residents to make a new world for themselves as free people.
Project Participants
Beaufort County
Federal Aviation Administration
South Carolina Aeronautics Commission
Talbert, Bright & Ellington, Inc.
Brockington and Associates, Inc.
The History Workshop
South Carolina Department of Archives and History
Special Thanks To:
Beaufort County Council
Beaufort County Airports Board
Beaufort County Director of Airports
South Carolina State Historic Preservation Office
Advisory Council on Historic Preservation
Coastal Discovery Museum
Mitchelville Preservation Project
Heritage Library Foundation

Links:
www.mitchelvillepreservationproject.com
www.coastaldiscovery.org
www.heritagelib.org
www.penncenter.com
www.scdah.sc.gov www.gullahgeecheecorridor.org